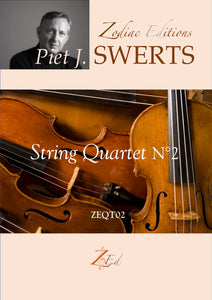 1.introduzione-grave-moderato con sarcasmo 2.canzone di gioia 3.canto funebre 4.finale-la violenza (30') Recording by Spiegel String Quartet: Elisa Kawaguti, Stefan Willems, violin, Leo de Neve, alto, Jan Sciffer, cello, PHAEDRA92045
Swerts about his composition: The second string quartet was among the first works I composed about half a year after the production of my opera Les liaisons dangereuses (1996-97). That troubled production had left its traces. One cannot live with a work of that scope day after day without being the worse for wear, emotionally. It is obvious that essence of my quartet is an emotional reaction to the events of those days, and that explains the acrimony, the anger and the agressivity of its main movement, the finale. I find it much easier to survey the whole of a longer composition (about 30 minutes) from the vantage point to which the work must strive. The movements were composed in the following chronological order: 4, 3, 2, 1b, 1a. I chose the character of the various movements in response to the substantial character of the finale. The slow movement preceding must be contemplative: very dar and somber in this quartet. This composition should have a clear feeling of oneness because all its movements are related to the finale. One movement can't do without the others, because their contents are musically related. The finale of the quartet is mainly polyphonic. It reflects more directly the inner life of the composer at the time of its composition.
Also available in digital format.