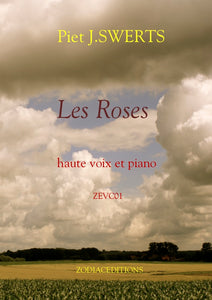 Large song cycle of 51' of 24 Songs for high voice (soprano or tenor) and piano, lyrics are originally written in French by Rainer Maria Rilke. Swerts wrote an essay at the occasion of its first performance in 2013, he recorded later the cycle with Zeger Vandersteene.
"(...) In a distant corner of Flemish Brabant, on the border with Hainaut, in the smallest village in Belgium, there is a building known as a sanctuary: Rosario in Bever. An old monastery was restored there with great respect for its original purpose, larger rooms were converted into a meditation room, and above all, its chapel is now a small, magnificent concert hall. Rather, a perfect silence space: you don't hear anything there, peek through the arched windows at the swaying crests of surrounding trees, here you end up in another world. For a composer, of course, this is a dream, a sacred lab where the sounds come to you by themselves, where the music arises, where the space itself asks to be heard.
Somewhere around 2004, I get my hands on a book in a second-hand shop, a French-Dutch edition of Les Roses by Rainer Marie Rilke. The poet died 1926 in the sanatorium Val-Mont sur Territet near Montreux from the effects of leukaemia. His permanent residence at that time was Muzot, a medieval residential tower in a village just above Sierre in the Swiss town of Rhôneda. In 1927, at his request, these poems appear posthumously, symbolizing the rose as a metaphor for so many multifaceted philosophies of life, even Rilke's self-chosen epitaph refers to it: Rose, oh reiner Widerspruch, Lust, Niemandes Schlaf zu sein unter soviel Lidern. Each and every one of these French poems are gems of purity of thought and poetry, they are transparent, delicately suggestive, tender, gloomy, passionate, angry, intrusive, all human emotions are contained in them. They demand to be set in tone.
To my great surprise, to my knowledge, no one has ever done this before. My plan was quickly conceived to start this, but a poem, the poetry, the tone of a poem can't be captured, it has its own nature of tone, you can't deny that, you have to respect that and leave it untouched. A few attempts and many years later I barely set three songs of this cycle to music. Each in itself independent song from this collection has been intuitively chosen by me, but it is not what I am looking for.
In 2012, due to coincidental circumstances, I gave a lecture in Rosario in Bever and in animated conversation with the inspirer of it, Johan Vriens, it seems as if after so many years Les Roses has come home. Johan invites me in residence to spend a few weeks composing these songs in this beautiful silence. Thus it happened.
1 July 2012 I arrive in this beautiful quiet building. I am allowed to stay in the room where Arvo Pärt has been staying, the 'Pärt room', which has become my room in the meantime, on the first floor, that leads directly to the concert chapel. This will be my lab for three weeks, twenty-four hours on twenty-four, as the muse will inspire me. The instruments that are there do not lie either: history is palpably present here, a nineteenth century Bösendorfer and Erard are on display, and on the stage the beautiful concert grand piano Ibach from 1914 with a low F-bass like the concert grand piano Böserdorfers of today... warm sounds this instrument produces, it carries away my preference immediately.
The scenario is the same almost every day: in the morning having breakfast with the guests at the long table and then going to my grand piano: day two I put myself on this instrument, I look at the text, read it carefully and immediately hit the first bars on the keys...it goes as if by itself. There are days that I composed four songs, other days nothing, but twelve days later, the twelfth of the seventh month of two thousand and twelve, there are seven of us present and the sketches of the cycle are scribbled on paper: a full hour of music in a fortnight time, like a big gutter it came out, incessantly, that's what silence does to a human being, it immediately appeals to your source. It has never happened to me as a composer, the music dictated itself.
And there is also the immense difference between a modern concert hall and an old restored monastery that breathes its history, it lives more, it invites to be stilled, and when you come to it, you automatically open up to that silence, and then, at that moment, listening to songs that originated in that same space of silence, that's only a 'real' listening experience. One cannot stand any closer to the source: and perhaps silence that has become silence in that way is relevant to the far too hectic person, because if you want to come to Bever, you have to make an effective effort, move away, and gradually the picturesque landscape takes over from you and you come in a different pace, and when you arrive at the church, and quietly walk to Rosario, you only hear the bell of the tower ringing, you step into the courtyard garden, and stroll into that intense space of silence, and there you come to yourself with the help of Rilke and the sounds that crystallize his poetry, and that is a unique experience that is commercially untranslatable but offers a form of spirituality that we will all continue to crave. (...)"
One set contains a full vocal score and a separate piano part. 
Also available in digital pdf.format.
The convent 'Rosario' in Bever.
The 'Pärt Room' where Swerts was staying during the composition.
After completing the composition, Swerts offered the sketches to the owners and started copying by hand all songs during two or three days in his own composition sketchbooks.
Handwriting of the composer in the Ibach 1914 Concert Grand the date of completion of Les Roses.