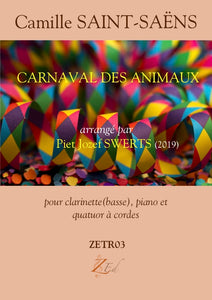 On request of the Roeland Hendrickx Ensemble Swerts also arranged Camille Saint-Saëns famous Carnaval des animaux for this ensemble which consists of clarinet, piano and string quartet. The clarinet player also plays the bass clarinet occasionally. This version has been recorded and released by Antarctica records AR022 Le Bestiaire
Full set, score and parts.
Also available in digital pdf.format.
CARNAVAL and BESTIAIRE are now available.
Study scores can be purchased though.