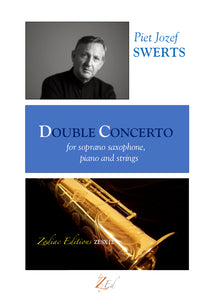 Very playful and Shostakovitch-like energetic double concerto for soprano saxophone and piano. This is the second version of this composition of 2016: the first version is for trumpet and piano with strings. This video shows the final movement of the concerto which has a duration of 20'. The composer plays the piano part.
Here a fragment of the first movement by Ataneres, Bert Koch and Kurt Bertels.
Full Set: score with solo parts and string parts. No shipping costs.