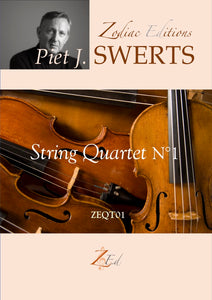 1.Ricercare 2.Epitaph 3.Carnaval  24'
CD XII In Flanders' Fields 'Contemporary String Quartets' 
Gistelinck-Swerts-Westerlinck-Legley
Gaggini Quartet-Jenny Spanoghe-Bart Lemmens-Béatricie Derolez-Rigo Messens:
 Video-Score:
Audio-recording of the Quartet by Gaggini:
From the booklet of the CD, written by Frans Boenders: (...) Having too much up his stave, he was never lured into any avant-gardism, but prefers writing music instead. In the present case, far-off echoes from Beethoven's later quartets, from Shostakovich or Ravel are confessed unavoidable. No doubt the most gifted Belgian composer of his generation, Swerts gives evidence of such wholeheartedness in writing as ro encircle the extremities of nostalgia, poetic fantasy and profilic energy. Thus in the first movement Ricercare he does not limit himself to a pair of themes, but in a bridge form (ABCDCBA) pays his hommage to Bartok. In the second, Epitaph, Shostakovich is at hand as long-spun themes and melodies hover over suspended time. The scherzo finale regales both musicians and listeners on an unassuming bit of effervescent chordiality.
Also available in digital format.