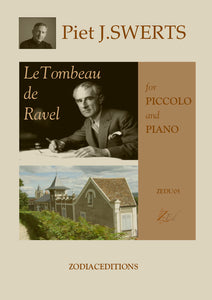 Nicole Esposito, piccolo (Iowa, US)
Belgian piccolo specialist Peter Verhoyen commissioned Swerts to write Le Tombeau de Ravel for piccolo and piano, and Swerts later created a version for soprano saxophone and piano for Kenneth Tse, who is Professor of Saxophone at the University of Iowa. Tse likely gave the first performance of the saxophone version of the work. Additionally, the work was almost orchestrated as a concerto at the behest of Australian saxophonist Amy Dickson for a performance at the World Saxophone Congress in Scotland, but unfortunately the proposal was not accepted. Swerts has nearly finished the orchestration for two of the movements, and it is possible there may be a published concerto version in the future.
The work is approximately 15 minutes in length and is in three movements: I. Monfort l'Amaury, II. Le Belvédère, and III. Petit oiseau mécanique. The title of the work is a play on words of Maurice Ravel's composition Le Tombeau de Couperin. The titles of the movements themselves refer to Ravel's home, Le Belvédère, in the town of Montfort l'Amaury just outside of Paris. In the Baroque period 'Le Tombeau de' was a form of homage to a composer. Ravel himself did this to honour the Baroque period by naming Couperin, Swerts did it to the music of Ravel and the composer. Moreover, it is also an indication in which direction the style of music will evolve.
Today Le Belvédère is a museum open to the public that showcases his cherished collection of artwork and ornamental curios. One of these small, yet significant pieces was a gift given to Ravel by the sculptor Léon Leyritz. The gift was a small mechanical bird in a gold birdcage that sings at the turn of a crank. Ravel named the toy bird Zizi and would sit and listen to its mechanical song for hours. The third movement in Swerts' composition is entitled "Petit oiseau mécanique", or "small mechanical bird", and it is directly influenced by this small toy's wonderfully accurate nightingale birdsong: