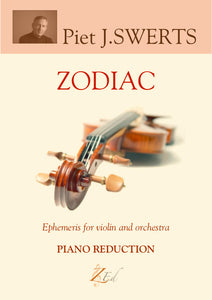 In 1993, dr. Swerts participated the International Queen Elisabeth Competition for Composition with his violin concerto Zodiac. 154 participants from 24 countries participated then, among the members of the jury were Donatoni, Gorecki, Verbey, de Pablo and Devreese. His concerto was selected and received the Grand Prix International Reine Elisabeth Composition. Then it was the compulsory concerto for the finals of the violin edition 1993. The winner was Yayoi Toda. 12 performances were broadcasted on TV and radio. Among them, the performance of Martin Beaver from Canada was an ideal performance. This version can be heard on YouTube. This edition is the piano reduction with the violin solo part. 
This video shows the solo part during the performance:
The complete orchestral materials are purchasable in pdf.format as well.