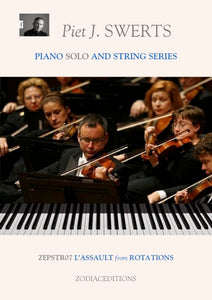 Swerts developed this new Collection of Piano Solo and Strings especially for his 60th Anniversary Concert 14.11.2020 where he performed himself this program together with the String Ensemble Ataneres. He selected some pieces from his own works and of his beloved composers Beethoven, Chopin, Debussy, Satie and Soler as well and created completely new arrangements for piano solo and string orchestra. Most of these score have no divided parts and can be performed therefore also with a limited number of strings. 
L'assault is the second of the four movement pianoconcerto Rotations that Swerts composed as compulsory piece during the finals of the International Queen Elisabeth Competition 1987 for piano. It is inspired on the poem Rotations of Robert Schaack.
Full set, score with parts, one pdf.file, 35 pp.

No addition nor calculation of shipping costs.