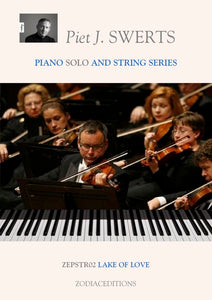 Swerts developed this new Collection of Piano Solo and Strings especially for his 60th Anniversary Concert 14.11.2020 where he performed himself this program together with the String Ensemble Ataneres. He selected some pieces from his own works and of his beloved composers Beethoven, Chopin, Debussy, Satie and Soler as well and created completely new arrangements for piano solo and string orchestra. Most of these score have no divided parts and can be performed therefore also with a limited number of strings like a string quintet.
 This piece is in fact an extract from the Horta Suite where it has the title 'Berceuse'. There it is the second movement. Many saxophonists feel enormously attracted by this part though and that's why Swerts decided to arrange it into a separate piece. 'Lake of Love' is a very popular place in Bruges where a lot of couples in love come to take selfies while standing on the bridge with the water in the background.
Full set and parts in one pdf, 26pp
No addition nor calculation of shipping costs.