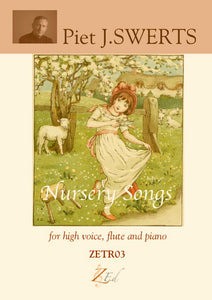 Originally Swerts composed Nine Songs of Long ago for soprano and piano. In the nineties, he acquired a beautiful little book with the title Little Songs of Long ago, edited by Dawn and Peter Cope, illustrated by Henriette Willebeek Le Mair (1889-1966), ISBN 0-85692018508. This book was first published in 1912 and its companion volume 'Our Old Nursery Rhymes', 1911. The book contained 30 Rhymes. Swerts first intended to set them all on music but the project ended up with nine of them.

When he was invited as guest professor in Joensuu in Finland though, he gave a concert with Pekka Mustaniemi who was director of the conservatory and also a flutist. That's how this trio version evolved from the duo version. It can be performed by a soprano or a tenor as well.
Later on, Swerts orchestrated the songs, they were performed in that time by the Symphony Orchestra of Flanders, their former conductor was then David Angus who always was referring to these songs as Nursery Songs:

The digital pdf.file contains in one file the full score and separate parts for flute and voice, 70 pp.
No addition nor calculation of shipping costs.