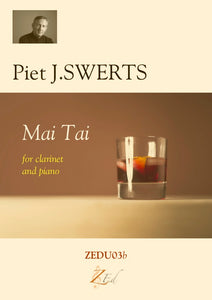 Belgian flutist Inge Smedts commissioned Swerts to compose a cocktail-themed work for alto flute and marimba as part of her project Cocktail Maison. In addition to Swerts, Smedts also commissioned Jef Neve, Klaas Coulembier, Jan Huylebroeck, François Glorieux, Bart Watté, Nico Schoeters and Etienne Houben. Smedts writes this about her project:

"What if ... Flemish composers are inspired by their favorite cocktail? A cocktail is a mixture of different and diverse components that together lead to a new and delicious whole. Cocktail Maison applies this principle to music for flute/piccolo/alto flute and marimba/vibraphone, resulting in a vibrant mix…"           
Swerts doesn't particularly enjoy cocktails, but he picked the Mai Tai because "the sound of its name is very tropical and suggestive." After completing the composition for Smedts, Swerts made several adjustments and reworked a version for alto saxophone and piano. As the title implies, the habanera rhythm is played throughout the work by the pianist as the saxophonist plays a melody that begins simply and evolves into a dazzling display of technique. This version for alto flute and marimba has been recorded by Inge Smedts and is on her album Cocktail Maison. 
This version for clarinet and piano is available in digital format, delivered in one file, score and part, 17 pages.
No addition nor calculation of shipping costs.