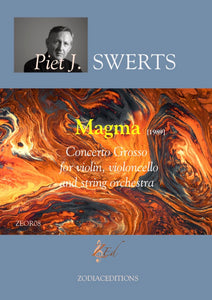 vl solo, vcl solo, vl12vlavclcb duration 15'30"
This work was commissioned by I Fiamminghi, artistic director Rudolf Werthen, who wished an explicitely virtuose piece for him as violinist and his spouse France Springuel, cello. I imagined an outbursting vulcano for searching for this extreme wild and challenging music. In terms of form, I had a three-part work in mind, in which the outbursts would appear in the finals. In the middle part a mysterious scherzo where the sparks of the lava flared up and in the first part an introductory part that had to prepare the ominous premonition of the coming eruption. The finale is strongly influenced by Lutoslawski's style and I had a macro-acceleration in mind in which the metre would systematically reduce to nothing, each time in sentences of 8 bars starting from 4/4 to 7/8 to 6/8, 3/4 and so on to 8/16. The first part would then be more or less reversed, starting from condensed to expanding. The second movement is inspired by Bartok's third string quartet, in which the solo parts constantly play in octaves and the orchestral parts play a fabric around them in different metres. Remarkable in the solo parts is that the ostinato starts on one tone and gradually expands and then progresses in retrograde way back to the beginning. A very challenging but extravert composition. I revised the whole score in terms of notation and articulations.
This work is also available in digital format, the full set or as Study Score.