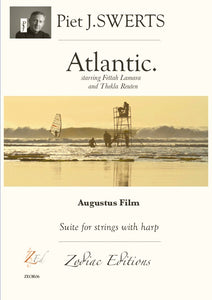 Dutch director Jan-Willem Van Ewijk approached Swerts to compose a classical soundtrack for his movie Atlantic. starring Fettah Lamara and Thekla Reuten.
 On request of the Ataneres Ensemble he composed a 20' suite of the soundtrack containing the most important scenes but also unused material of it. The soundtrack itself can be listened free here.
Study score available in digital format, 73pp.
Full set, score and parts also available in digital format.
No addition nor calculation of shipping costs.
Here you can listen to the complete soundtrack of the movie: