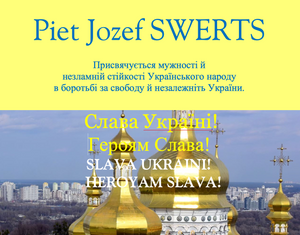 "Slava Ukraini! Heroyam Slava!" Glory to Ukraine and its Heroes) is a re-translation and new orchestration by Belgian composer Piet J.Swerts of the official march of the Ukrainian army which he combines with the national anthem. In the transition, the orchestra plays the historical slogan. It is an artistic musical fist against senseless war violence as we are now experiencing it in Ukraine.

World premiere by Brussels Philharmonic, conducted by Yoel Levi, 17 and19/3/2022. This video shows maestro Levi conducting Haïfa Symphony Orchestra in Israël.
Piet J.Swerts is making the score and orchestral parts available free of charge to all orchestras in the world so that we can offer musical resistance as one united voice.
Download the score for orchestra here for free (no shipping costs!) and donate for Ukraine!

 Here the performance by Euregio Orchestra cond. by Hans Casteleyn:
NAME OF ACCOUNT: ART4UKRAINE
IBAN  BE89 7350 6012 0685
BICCODE KREDBEBB
Mention in your donation : 'art4ukraine'
email: art4ukraine2022@gmail.com
"Slava Ukraini! Heroyam Slava!"(Glorie aan Oekraïne en zijn helden) is een hertaling en nieuwe orkestratie door componist Piet J.Swerts van de officiële mars van het Oekraïense leger die hij combineert met de nationale hymne. In de overgang scandeert het orkest de historische slogan. Het is een artistieke muzikale vuist tegen zinloos oorlogsgeweld zoals wij dat nu mee beleven in Oekraïne.
Wereldcreatie door Brussels Philharmonic, o.l.v. Yoel Levi, 17 en 19/3/2022.
Video-opname door Haïfa Symphony Orchestra o.l.v. maestro Levi.
Piet J.Swerts stelt de partituur en het orkestmateriaal gratis ter beschikking aan alle orkesten ter wereld zodat wij vanuit de muziek als een stem weerstand bieden. 

Download de partituur hier gratis en doneer voor Oekraïne!
NAAM VAN DE REKENING: ART4UKRAINE
IBAN  BE89 7350 6012 0685
BICCODE KREDBEBB
Vermeld : 'art4ukraine'
email: art4ukraine2022@gmail.com
NO COSTS NOR SHIPPING COSTS