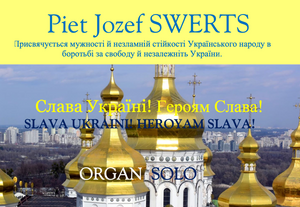 "Slava Ukraini! Heroyam Slava!" (Glory to Ukraine and its Heroes) is a re-translation and new orchestration by Belgian composer Piet J.Swerts of the official march of the Ukrainian army which he combines with the national anthem. In the transition, the orchestra plays the historical slogan. It is an artistic musical fist against senseless war violence as we are now experiencing it in Ukraine.
Here watch en listen the first world performance by Johannes Unger in the Marienkirche in Lübeck:
The same day performed by organist Luc Ponet in the Basiliek in Tongeren, Belgium:
Here you can listen and read the score:
THIS VERSION IS FOR ORGAN SOLO

Piet J.Swerts is making the score available free of charge to all organ players in the world so that we can offer musical resistance as one united voice.

Download the score  here for free (no shipping costs!) and donate for Ukraine!

NAME OF ACCOUNT: ART4UKRAINE
IBAN  BE89 7350 6012 0685
BICCODE KREDBEBB
Mention in your donation : 'art4ukraine'
email: art4ukraine2022@gmail.com
mobile dr. Swerts +32 474 53 96 14