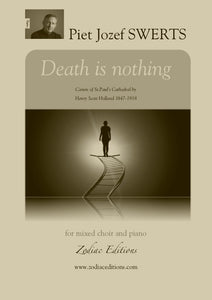 Only available as pdf. After purchase the choir can produce the number of copies they need for their performance.
No addition nor calculation of shipping costs.
Death is nothing has been currently recorded on a new CD Les Flandriens by the Flemish Radio Choir.
This famous Canon of St.Paul's has been set to music during an extraordinary experience by Swerts:
"The story of this composition is a very mysterious one.  Somewhere around 2003 it must have been that I visited London and witnessed the lunar eclipse, a very spectacular moment, where all people were standing and suddenly became very silent when darkness set in in the middle of that day. It was then when I visited the St. Paul's Cathedral and by coincident found  beautiful handwritten calligraphy of the Canon of St. Paul's. I was definitely planning on putting it to music. This calligraphic facsimile has been on my desktop for at least two years. In a first attempt I had tried to compose a cappella work, it didn't work, I wasn't satisfied with it. Then later, something very special happened. It was a sultry, hot summer evening, I sat down at my desk, and the Canon stood in front of me. There was a Paternoster laying on my desktop close near the facsimile. Then I did something I had never done and never attempted afterward. I spontaneously put the Paternoster around my neck, took my sketchbook and facsimile and entered the room next my office, where it was dark, but then much cooler, silent, but normally, I never would work there. There stood a digital piano in the corner. I opened my sketchbook with the Paternoster around my neck and suddenly start writing.  I felt inspired, and some moments later, very naturally, I suddenly looked behind me because I really felt that someone had entered this room and stood behind me. For acoustic reasons, however, the door between this room and my workspace is a double door, it was difficult to open it but then I had not heard it to be opened by anyone, but I was so certain that I had felt and know that someone had entered and stood right behind me looking over my shoulder on my sketchbook. Now I am convinced that this must have been Henry Scott Holland. But then I was  so in panick that I dropped everything and fled to the top floor and never returned that night. An experience that I have never felt again. The next day I went back to this room in the morning. My sketchbook was still there. What I noted was enough to finish the piece. It seemed as if it had been dictated to me then. This version was for two sopranos and an organ without pedals. In that version we performed it in an old Roman church. The reactions of the few people there were overwhelming and above all, the piece sounded so English, not at all my own style, it was something very special. This version has been completely reworked, the main lines of the two female voices have been retained, but the whole has been translated for a mixed choir and provided with an elaborated piano part."